Kramer Chevrolet Creating Awareness and Raising Money for Breast Cancer
Mandan-Kramer Chevrolet is creating Breast Cancer awareness through the month of October by participating in 12th annual Making Strides against Breast Cancer event initiated by GM Chevrolet. GM will donate $5 (up to $170,000) to the American Cancer Society for Instagram and Twitter posts of pictures tagging Kramer Chevrolet and using the hashtag #WeDriveFor. 
Kramer Chevrolet also is going pink every Wednesday in the month of October to show their support for the 290,560 people who will be diagnosed with invasive breast cancer this year. Employees will be wearing pink and the showrooms are decorated with educational pieces, pink ribbons, and banners. We are dedicated to showing our support whether it be someone undergoing treatment or survivors, we don't want anyone to face it alone" says Phil Alalouf, managing partner of Kramer Chevrolet.
With one in eight women at risk of developing breast cancer, most people are touched by the illness in some way.  States Alalouf, "Kramer Chevrolet loves our community and family and hopes by creating awareness that fathers, husbands, brothers or anyone for that matter, will ever have to have to experience such a loss. Together, we can bring an end to this disease."
To learn more, visit Kramer Chevrolet at 1500 2nd St NE, Mandan or contact Amy Jo at 663-9851.




Kramer Chevrolet One of 500 to Receive Prestigious Award

---
Mandan- Kramer Chevrolet was recently awarded the Mark of Excellence Service Award for 2021 by Chevrolet. They were among 500 Chevrolet dealers nationwide with the Mark of Excellence Dealer Trophy for leading the dealer network in superior customer sales, service, and experience, while growing their business.
Criteria was based on Dealership:
Meeting dealer parts sales loyalty target of 85%
 
 Meeting the dealerships blended CSI/SSS survey target of 80% during eight out of 12 months
 
Individual center of learning qualifier of 100%

Our goal is to put customers and community at the center of everything we do, and we are so honored to have our efforts recognized," said Phil Alalouf, Managing Partner of Kramer Automotive. "This award is a testament to the entire team's dedication to making sure every touch point we have with our Chevy customers exceeds their expectations." For more information contact Amy Jo at 663-9851
Kramer Automotive Supports Athletes and Fun at Marauders Fest Bismarck
Kramer Automotive recently participated in the University of Mary at Marauders Fest Golf Tournament on August 4 at Hawktree Golf Tournament.  Kramer Automotive provided 50/50 Fantasy Golf Scratch off tickets for purchase.  Participants buy one for $10 or 3 for $25.  The winner with the lowest score received half the proceeds.  $400 was donated to the Subaru Loves Learning program for school supplies for local schools.  This year's school is Custer Elementary.
For more information contact Amy Jo at 663-9851.


The second part of the 50/50 Hole in One Contest was drawing four random names to get a hole in one at the 18th hole. Four participants shot uphill 150 yds for a chance to win a $250,000 prize package which included a boat, a car, $20,000 cash and $10,000 to their favorite charity.
Kramer Automotive also had a team and golfed alongside 144 other golfers having a ball in 103-degree heat. All proceeds from the golf tournament support the University of Mary Marauders Armada, providing scholarships to student-athletes at the University of Mary.
For more information contact Amy Jo at 663-9851.
Ashley, ND- Kramer Chevrolet recently attended and was proud to sponsor the biggest small town rodeo August 6 and 7 in Ashely ND. Kramer Chevrolet along with West Dakota Chevrolet Association also provided the official truck. This fully sanctioned 2-day Professional Rodeo Cowboys Association (PRCA), brings Cowboys and cowgirls from across the United States even traveling as far as from Texas to participate in Bull Riding, Barrel Racing, Saddle Bronc Riding, Steer Wrestling and Tie Down Roping and new this year was Women's Break-Away Roping.
For more information contact Amy Jo at 663-9851.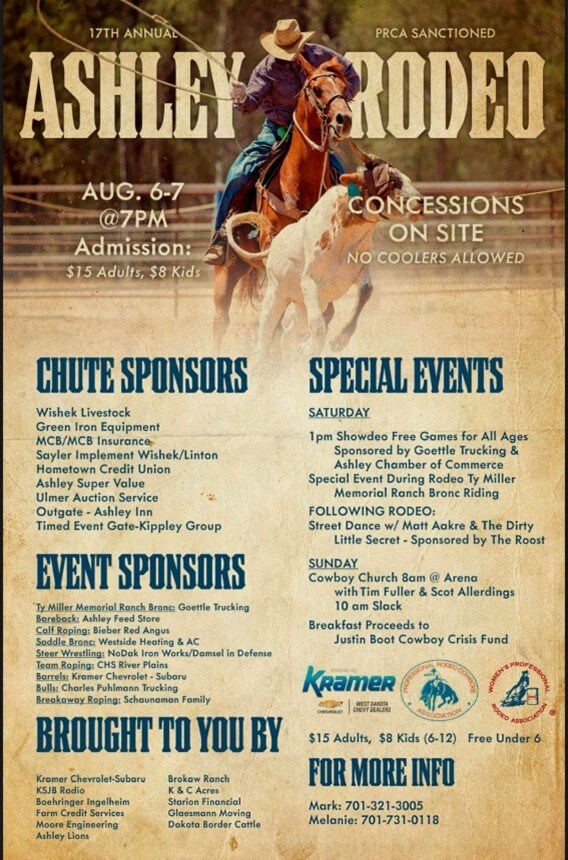 Mosbrucker Cattle Company from Manda supplied the stock including bucking horses, steers, and bucking bulls. The Ashley rodeo is a sanctioned NPRA, PRCA, and WPRA rodeo.
For more information contact Amy Jo at 663-9851.
Local Master Technician Receives National Award
Mandan-Local service technician Kevin Malmedal of Kramer Chevrolet recently received top honors with the Mark of Excellence Award as being listed in the top 20 for technicians in the General Motor Company, Chevrolet, and Buick Zone that he represents. Malmedal was ranked a certain percentage in each category:
•
Fixing it right the first time
•
Training -Center of Learning Service Training Standards
•
Product Knowledge Tests
Malmedal started out 24 years ago working in engines and transmissions. Today after 22 years with Kramer Automotive he currently serves as Master Diesel Technician. Malmedal is an Underwood, ND Native.  He and his wife reside in Bismarck with their four children.